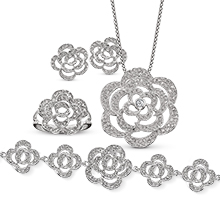 Rose Silhouette Bundle Collection
J9000B141
$275.00
Rose Silhouette Bundle Collection A rose favorite, this enchanting rose silhouette collection offers a complete jewelry set, including the glamourous bracelet, necklace, earring set, and a ring*, all inspired by the elegant and timeless rose motif.
Crafted in sterling silver and set with cubic zirconia stones, this sparkling set is a must-have for your sorority collection! *Crafted in whole sizes 5-9. Place your order now!
Product returns must be made within thirty (30) days of ship date for reasons unrelated to a quality defect or incorrect item. Products that are customarily stocked by Herff Jones and that are returned for reason(s) other than product quality are subject to a restocking fee of 25% of order value.
Custom-made products are not returnable; this includes all rings and any other non-stock jewelry items. Customer is responsible for any postal or shipping charges incurred in returning the product to the Greek Division of Herff Jones