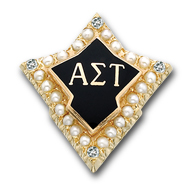 Crown Pearl Badge with Diamonds.
J0091dia point badge
The diamond points are beautifully set with genuine pearls in 10k yellow gold.
This product is not available to purchase online.
MUST BE ORDERED THROUGH ALPHA SIGMA TAU NATIONAL OFFICE.
Product returns must be made within thirty (30) days of ship date for reasons unrelated to a quality defect or incorrect item. Products that are customarily stocked by Herff Jones and that are returned for reason(s) other than product quality are subject to a restocking fee of 25% of order value.
Custom-made products are not returnable; this includes all rings and any other non-stock jewelry items. Customer is responsible for any postal or shipping charges incurred in returning the product to the Greek Division of Herff Jones