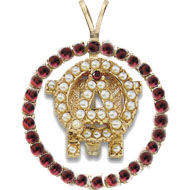 Garnet Badge Pendant
J00650051GARN
So much elegance, so much class, so much sparkle! It comes adorned with 30 -4 point synthetic garnets (1.2 TCW) and a rabbit ear bale. We recommend sending your badge in to us when you purchase this so that we can be sure it is the perfect fit!
Please send your badge after you place your order to ensure a secure fit to the pendant. To send your badge please print the Return/Repair Form and include it in the package.
Your guard and dangles can not be attached to your badge when it is used as a pendant.
PLEASE NOTE BADGE IS SOLD SEPARATELY
Product returns must be made within thirty (30) days of ship date for reasons unrelated to a quality defect or incorrect item. Products that are customarily stocked by Herff Jones and that are returned for reason(s) other than product quality are subject to a restocking fee of 25% of order value.
Custom-made products are not returnable; this includes all rings and any other non-stock jewelry items. Customer is responsible for any postal or shipping charges incurred in returning the product to the Greek Division of Herff Jones