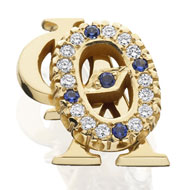 Centennial Badge
J70150103
Celebrate Theta Phi Alpha's Centennial now and every day ... A beautiful diamond badge accented by synthetic blue sapphires in the center and at North, South, East and West points.
This product is not available to purchase online.
Available in 14 Karat or 10 Karat Yellow Gold at $350 or $290 respectively ... Please contact the National Office at 1-440-899-9282 for ordering information.
Product returns must be made within thirty (30) days of ship date for reasons unrelated to a quality defect or incorrect item. Products that are customarily stocked by Herff Jones and that are returned for reason(s) other than product quality are subject to a restocking fee of 25% of order value.
Custom-made products are not returnable; this includes all rings and any other non-stock jewelry items. Customer is responsible for any postal or shipping charges incurred in returning the product to the Greek Division of Herff Jones