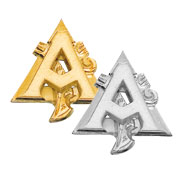 Plain Badge
J70110100
This product is not available to purchase online at HJGreek.com.
If you are a new member wishing to order a badge, please contact your Vice President-New Member Experience. Since direct orders cannot be accepted via this site you are currently visiting, initiated members and alumnae should copy and paste the URL as provided below for replacement orders or to purchase a different style of badge: https://www.hjgreek.com/index.cfm?event=pub.showlogin&type=alum&org=Alpha%20Gamma%20Delta
Product returns must be made within thirty (30) days of ship date for reasons unrelated to a quality defect or incorrect item. Products that are customarily stocked by Herff Jones and that are returned for reason(s) other than product quality are subject to a restocking fee of 25% of order value.
Custom-made products are not returnable; this includes all rings and any other non-stock jewelry items. Customer is responsible for any postal or shipping charges incurred in returning the product to the Greek Division of Herff Jones