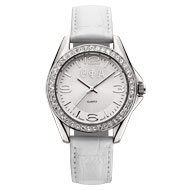 Wynterice Watch
J7015WYNTERIC
$20.00
CLEARANCE (while supply lasts)! Polished ionic plated brass casing accented with sparkling cubic zirconia with a stainless steel backing. The Sunray silver tone dial detail includes Theta Phi Alpha Greek letters and 12, 3, 6, and 9 hour marks. Complete with a padded genuine white leather band. This watch is a must have! Watch face measures 1 1/2" dia.
This product is not available to purchase online at HJGreek.com.
This product is no longer available.
Product returns must be made within thirty (30) days of ship date for reasons unrelated to a quality defect or incorrect item. Products that are customarily stocked by Herff Jones and that are returned for reason(s) other than product quality are subject to a restocking fee of 25% of order value.
Custom-made products are not returnable; this includes all rings and any other non-stock jewelry items. Customer is responsible for any postal or shipping charges incurred in returning the product to the Greek Division of Herff Jones