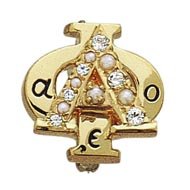 Alternating Pearl and CZ Badge
J00672001
A beautifully striking badge featuring genuine pearls set in alternating sequence with synthetic diamonds (cz's) in the Alpha, accented with a tiffany-set pearl in the center. Also available with genuine diamonds. May also be ordered in white gold. 3/4" h. x 3/4" w.
This product is not available to purchase online at HJGreek.com.
To reorder badges please visit: https://www.hjgreek.com/index.cfm?event=pub.showlogin&type=alum&org=Alpha%20Phi
Product returns must be made within thirty (30) days of ship date for reasons unrelated to a quality defect or incorrect item. Products that are customarily stocked by Herff Jones and that are returned for reason(s) other than product quality are subject to a restocking fee of 25% of order value.
Custom-made products are not returnable; this includes all rings and any other non-stock jewelry items. Customer is responsible for any postal or shipping charges incurred in returning the product to the Greek Division of Herff Jones