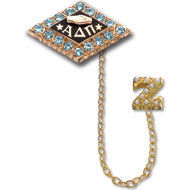 Crown Synthetic Stone Badge
J7009E.
Available in 10K white gold or yellow gold or sterling silver ... Synthetic colored stones choices are aquamarine or blue sapphire. The purchase of a chapter guard (sold separately) is recommended not only to display pride in your chapter, but to ensure added protection against the loss of your badge. 3/8" h. x 3/4" w.
This product is not available to purchase online at HJGreek.com.
All Badges must be purchased through Alpha Delta Pi Executive Office 404-378-3164 or at badges@alphadeltapi.com
Product returns must be made within thirty (30) days of ship date for reasons unrelated to a quality defect or incorrect item. Products that are customarily stocked by Herff Jones and that are returned for reason(s) other than product quality are subject to a restocking fee of 25% of order value.
Custom-made products are not returnable; this includes all rings and any other non-stock jewelry items. Customer is responsible for any postal or shipping charges incurred in returning the product to the Greek Division of Herff Jones