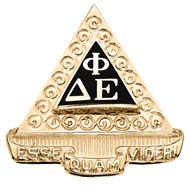 Official Chased Border Badge
0101
The Official Recognition Badge shall be worn only by members of this Sorority. It shall be used as a badge only and shall be worn in a vertical position over the heart. Chapter guards, a man's fraternity pin or an honor society pin should be worn to the left and slightly lower than the Badge. Wearing the Sisterhood Badge is a way for all members to show their pride in Delta Phi Epsilon. It is important to be aware of appearance while wearing the Badge to ensure that Delta Phi Epsilon is represented in the best possible way. It is expected that the Badge be worn with the utmost pride and only in an appropriate manner. As a general rule of thumb, it is proper to wear the Badge on any occasion when members are dressed nicely and are well-groomed. Clothing that is worn, ripped or tattered is not appropriate.
This product is not available to purchase online at HJGreek.com.
MUST BE ORDERED THROUGH DELTA PHI EPSILON EXECUTIVE OFFICE.
Product returns must be made within thirty (30) days of ship date for reasons unrelated to a quality defect or incorrect item. Products that are customarily stocked by Herff Jones and that are returned for reason(s) other than product quality are subject to a restocking fee of 25% of order value.
Custom-made products are not returnable; this includes all rings and any other non-stock jewelry items. Customer is responsible for any postal or shipping charges incurred in returning the product to the Greek Division of Herff Jones