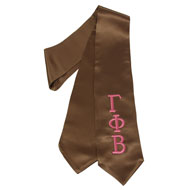 Graduation Stole
J0319STOLEMSH
$20.00
New for Gamma Phi Beta Graduating Seniors— Greek recognition stole is the perfect accessory for your cap and gown. The stole is brown featuring pink Gamma Phi Beta Greek letters.This stole measures a total of approximately 62", (appx 31" each side). Call 800.451.3304 (please ask for Greek Customer Service) to inquire on express and/or overnight shipping. In most cases, stoles will schedule to ship within ONE WEEK!
This product is not available to purchase online at HJGreek.com.
This product is no longer available.
Product returns must be made within thirty (30) days of ship date for reasons unrelated to a quality defect or incorrect item. Products that are customarily stocked by Herff Jones and that are returned for reason(s) other than product quality are subject to a restocking fee of 25% of order value.
Custom-made products are not returnable; this includes all rings and any other non-stock jewelry items. Customer is responsible for any postal or shipping charges incurred in returning the product to the Greek Division of Herff Jones