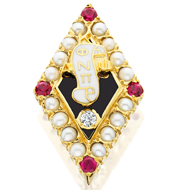 Official Jeweled Badge, Goldgloss
J08112685
The Official Jeweled Kappa Badge, featuring alternating genuine pearls and rubies, in our trademarked Goldgloss quality. 13/16 X 1/2".
This product is not available to purchase online at HJGreek.com.
As this is an official item it MUST BE ORDERED THROUGH KAPPA ALPHA PSI FRATERNITY HEADQUARTERS: (215) 228-7184
Product returns must be made within thirty (30) days of ship date for reasons unrelated to a quality defect or incorrect item. Products that are customarily stocked by Herff Jones and that are returned for reason(s) other than product quality are subject to a restocking fee of 25% of order value.
Custom-made products are not returnable; this includes all rings and any other non-stock jewelry items. Customer is responsible for any postal or shipping charges incurred in returning the product to the Greek Division of Herff Jones