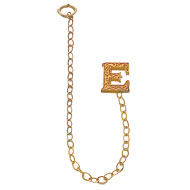 Chased Single Letter Guard
J0700
This option is for those who like something just a little different ... especially if your badge features some engraved or chased details. The letter guard is finely detailed with lace like detail to give it a final look of chasing. The purchase of a chapter letter guard is strongly suggested to not only show pride in your chapter but to protect against loss of your badge should it become unclasped.
This product is not available to purchase online at HJGreek.com.
If you would like to purchase this product, please visit your local chapter headquarters.
Product returns must be made within thirty (30) days of ship date for reasons unrelated to a quality defect or incorrect item. Products that are customarily stocked by Herff Jones and that are returned for reason(s) other than product quality are subject to a restocking fee of 25% of order value.
Custom-made products are not returnable; this includes all rings and any other non-stock jewelry items. Customer is responsible for any postal or shipping charges incurred in returning the product to the Greek Division of Herff Jones